Full Name: Sadori (ate'Eilsani) en'Eveil
Nicknames: Petal, Dori, Assa'rai
Season of Birth: Spring
Age: 385 (approximately early-30's)
Race: Dark Elf
Gender: Female
Hair: Black
Skin: Ashen Gray
Eyes: Violet
Height: Short-Average
Weight: Light-Average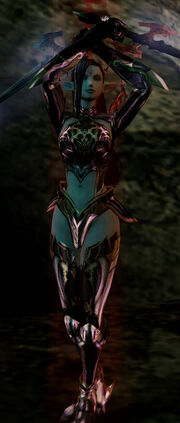 Biography
Edit
Place of Residence: en'Eveil Manor, Aden; en'Eveil Manor, Dark Elven Village; en'Eveil Manor, Rune Township; en'Eveil Manor, Goddard; Echoes Clan Hall, Gludin.
Place of Birth: Dark Elf Village
Known Relatives: Zepheer Ate'vasani (Sister), Olorae en'Eveil (Wife), Akalith (Brother).
Religion/Philosophy: Sadori is a reborn and extremely devout worshiper of Shilen.
Occupation: Bladedancer
Group/Guild affiliation: Echoes of Darkness; Crimson Lilly
Guild Rank: Council Member (Echoes); Private Security Detail (Lilly)
Enemies: Tetrarch Thiffel, Elliason, Einhasad Templars clan
Likes: Exercising, dancing, hunting, watching Olorae study.
Favorite Foods: rare meat (Windsus, basilisk, spider, etc), dark cherries and fruits, candied nuts, warm bread (Dion flour), white cheese, poached Kookaburra eggs
Favorite Drinks: Tea(s)[1]
Favorite Color(s): Dark Blue
Weapons of Choice: An augmented and enchanted pair of Keshanberk swords[2]
Dislikes: Chaos, betrayal, lies and dishonesty, inactivity, soul-affecting magics, Kamael[3], formal / social events
Hobbies: Exercising, dancing, hunting
Physical Features: Sadori is smaller and lighter than most dark elves, and significantly so compared to most knights. Large, lifelike tattoo of raven wings on her back, the tips of which wrap around over her ribs. Mark of Shilen on her forehead. Long scar down her left thigh and another above her right hip. Various smaller battle scars on her arms.
Special Abilities:
Positive Personality Traits: Loyal, honest, devoted, protective, observant
Negative Personality Traits: Suspicious, over-protective, distrustful, self-deprecating
Misc. Quirks:
Played by What Famous Person:
Theme Songs: Send Me An Angel - Zeromancer
History: See the article Cry, Little Sister.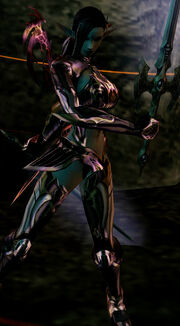 Recent Events
Edit
↑ Sadori loses control when drinking alcoholic beverages
↑ Engraving on the pommels reads: "Rah lu'Ssivah, Ilta orn tlu xunor" ("Hand and Voice, Her will be done")