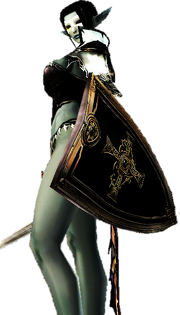 Olorae en'Eveil is a former Council member of the Echoes of Darkness. She is the twin sister of Analosi en'Eveil, daughter of Malechi and Mellisanthe en'Eveil. She is an Abyssal Celebrant, and rumored to be a member of the Cult of Shilen. She is a known Inquisitor, and rumored to be the Chosen One and Shilen's Daughter.
Full Name: Olorae Marie en'Eveil
Nicknames: Bitch, Belladonna, Matron, Teacher, Mistress, etc.
Date of Birth: Late Spring
Age: 432 Years Old
Race: Dark Elf
Gender: Female
Hair: Black with Purple Strands
Skin: Grey
Eyes: Green
Height: 5'11"
Weight: 155 lbs +/-
Biography
Edit
Place of residence: Various houses and manors across Aden and Elmore, most frequently in the City of Aden.
Place of Birth: Dark Elf Village, en'Eveil manor.
Known Relatives: Sadori en'Eveil (Wife), Zepheer (Sister-in-Law), Analosi en'Eveil (Sister - Deceased), Malechi en'Eveil (Father - Deceased), Mellisanthe en'Eveil (Mother - Deceased)
Religion/Philosophy: Olorae is a true, devout worshiper of Shilen, the goddess of Death and the Underworld. Secretly she is a member of the Cult of Shilen, leading toward the release of her goddess, but openly she opposes the Cult. She is constantly at odds with Tetrarch Thiffiel and the rest of the Tetrarch Council because of their belief of dual-worship; that is: they support worship of both Gran Kain and Shilen. Olorae believes that one must worship with their whole being and not allow worship of another to dilute their faith.
Occupation: Abyssal Celebrant
Group/Guild Affiliation: Echoes of Darkness / Crimson Lilly Trading Company
Guild Rank: Clan Leader
Enemies: Einhasad Templars clan, Kwali Mozayah, Akalith, the Tetrarch Council.
Likes: Music, poetry, art. Succeeding, seeing those she cares about succeed
Favorite Foods: Grilled Lienrik, side of Windsus, Gludio apple slices dipped in Dion honey.
Favorite Drinks: Bernician wine
Favorite Colors: Black, burgundy, forest green
Weapons of Choice: An enchanted and augmented Sword of Valhalla
Dislikes: Too much to list
Hobbies: Reading, learning ancient lore, converting to the religion, fishing
Physical Features: Average dark elven woman, small pale scar just below solar plexus. Mark of Shilen between her eyebrows.
Special Abilities: Faith-based spells, healing.
Positive Personality Traits: Open-minded.
Negative Personality Traits: Domineering.
Misc. Quirks: Olorae is a hedonist. She enjoys things that make her feel good, be they material, magical, or even other people.
Played by What Famous Person: Greta Garbo, circa 1920 (Example)
History: See here and here. See the article Baptized by the Abyss.
Recent Events
Edit
Olorae has been linked to the Cult of Shilen as a translator of ancient tomes regarding the Seven Seals.
Olorae has been in hiding since attacks on her life.
Olorae has been seen at rare times in public talking to herself, as if carrying on a conversation with someone else.
Olorae was romantically linked to Sithlyn.
Olorae is married to Sadori en'Eveil.